Posted by: Biggerfoot
The End of an Era -
01/22/13
02:26 AM
Tonight marks the unceremonious end my last 1999 iMac that was in use.
My orange iMac was the 400mhz DV model. It still worked fine for what I was using it for. I had seven years worth of fitness journals on it. The software, PDABS still works on Intels and 10.8 but the company went out of business years ago. Although I still have a license I purchased, they had an odd method to register it. For a $25 shareware program, it was as bad as Adobe and it was for just a one-time install.
Basically, since I did not want to lose the records, I had to reenter the data. It was not too bad...just an evening and some tea.
There are not too many options for fitness logs for the Mac. Open Fitness is outdated and its interface it terrible. Weightmania Pro is about it. It is great program but a little costly. I went with Weightmania Pro.
Probably the last time I will have the iMac running as I transfer the records (I worked out five days a week for a few years so there was a lot. It is helpful to see where I was at certain times and it helps with motivation too.):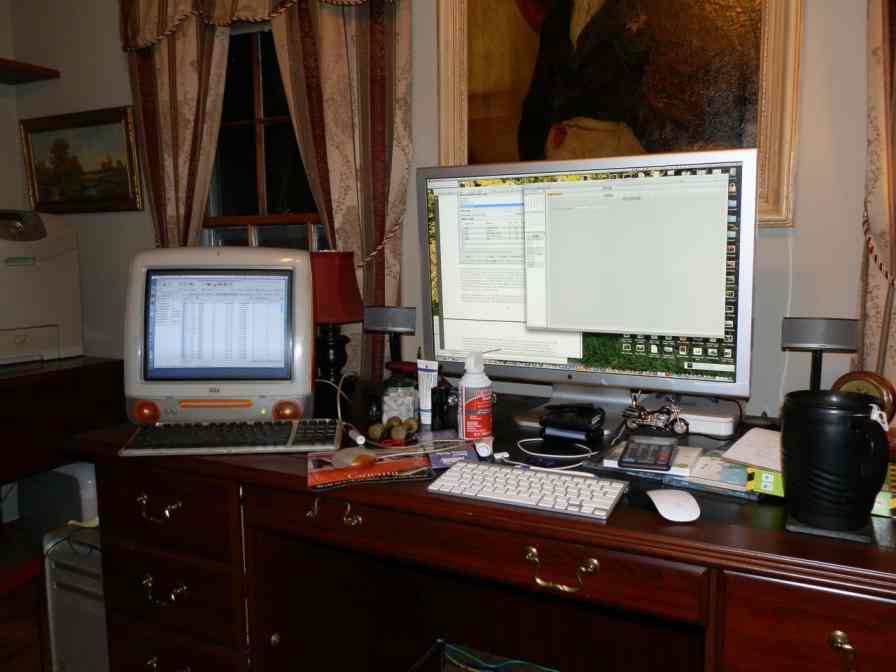 My leftovers. The red iMac still works too. The TV came out of my fitness room...still works. I remember getting it in 1991. What to do next???? I still have my old Color Classics, 512KE, Classic, G3s, so I am guessing to the barn loft they will go!